Curriculum Information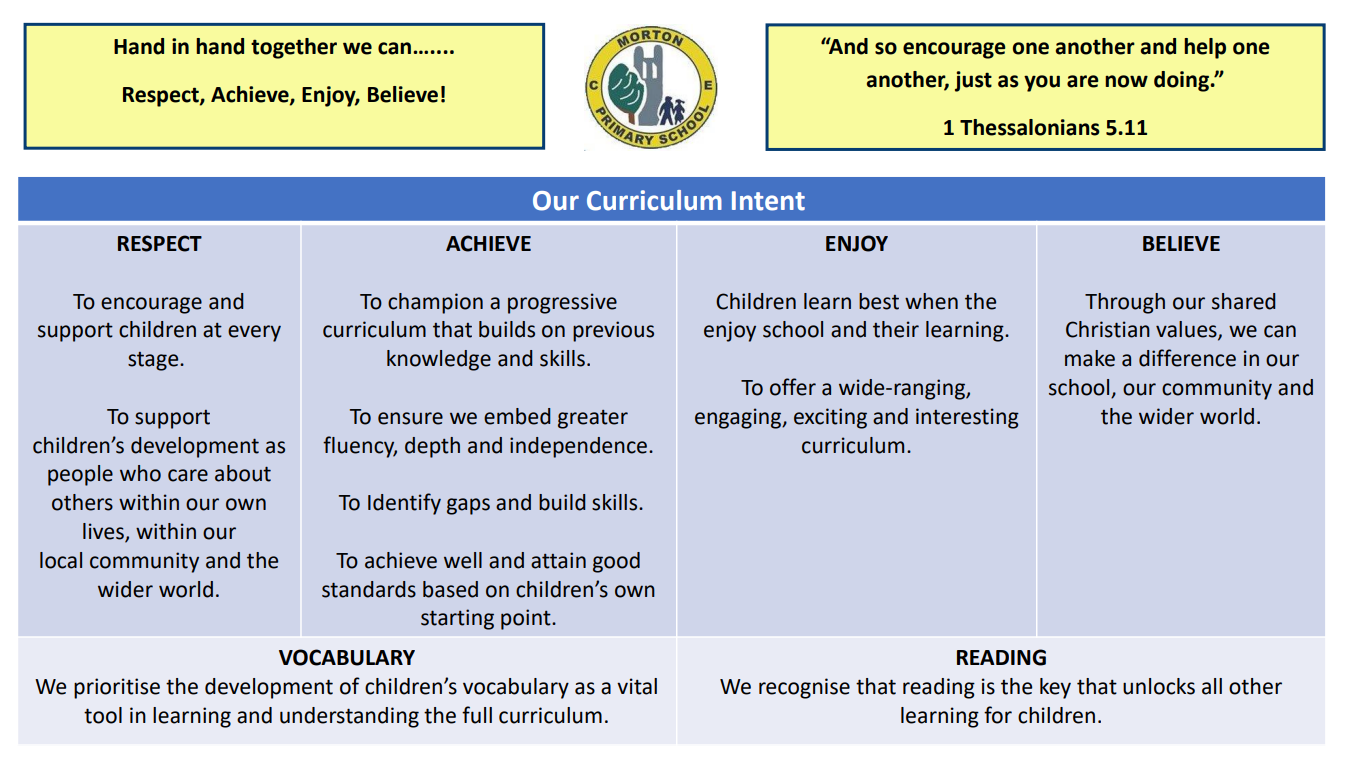 Learning at Morton C of E Primary School
We believe school is a place where children enjoy the challenge of learning. For our school community to thrive and grow we provide a stimulating and supportive environment that encourages all individuals to use their abilities to the full. Our school develops the whole child, academically, socially and spiritually, to enable them to progress with confidence. This all occurs within the framework of our Christian ethos which underpins and identifies our school as a Church of England School.
Our School Curriculum
At Morton C of E Primary School, our bespoke curriculum has been carefully planned by our skilled teachers and leaders to unlock potential in all our children. Our strong Christian values underpin our vision, that all children will flourish as they work together to 'Respect, Achieve, Enjoy and Believe'.
Our ambitious curriculum underpins this vision, consistently setting high expectations, striving for excellence in all curriculum areas. This is achieved by ensuring that the cohesively planned curriculum we offer builds children's knowledge and skills over time, carefully placing units of work in a well-designed sequence to ensure children are given time to revisit concepts multiple times during time they spend with us.
Our curriculum is broad and balanced and thrives on enriching children through a variety of inspiring experiences, such as focus days, workshops, visitors and visits ensuring that all pupils, particularly those from disadvantaged backgrounds, thrive during their time with us, raising aspirations for all our children.
(trips and visits map)
Our curriculum has been carefully planned to ensure the children have a good sense of their locality and the community within it, as well as allowing the children to consider the wider world. We nurture the relationships we have in the local community.
Curriculum Access For Pupils With Special Educational Needs & Disabilities (SEND)
Our broad and balanced curriculum is designed to meet the needs of all our children, offering equality and equity for pupils with additional needs and disabilities.
Children as Leaders
There are opportunities for the children to take responsibilities within their class and the whole school. Each class has a group of children who have monitor roles and across the whole school children can be Rotakids, House Captains or School Sacristans depending on their year group.
Extended School Opportunities
The school offers a variety of clubs for children to participate in after school. These include Football, Multi-skills, Cricket, Hockey, Dance, Board Games Club, Tag Rugby, Art, Mindfulness and Choir.